11 Reasons to Visit The Paria Canyon Vermilion Cliffs
Have you ever visited the paraia canyon or vermilion cliffs? There are many different reasons to visit this stunning location if you've never been. In this article, you'll learn why this amazing location should be on your travel bucket list.
Do you feel like getting away? Wanting to see amazing sights that will leave you breathless?
The Paria Canyon Vermilion Cliffs are the perfect holiday destination for you!
The cliffs, a treasured national monument admired by so many, are nothing short of spectacular. This geologic wonder has a deep red color and incredible heights ranging from 3,100 to 7,100 feet.
And aside from this natural formation, there are also several amazing sights and activities that you'll love to experience during your visit!
Do you need convincing? In the article below, we'll explore 11 great reasons to set your next holiday destination to the Paria Canyon Vermilion Cliffs!
What Are the Paria Canyon Vermilion Cliffs?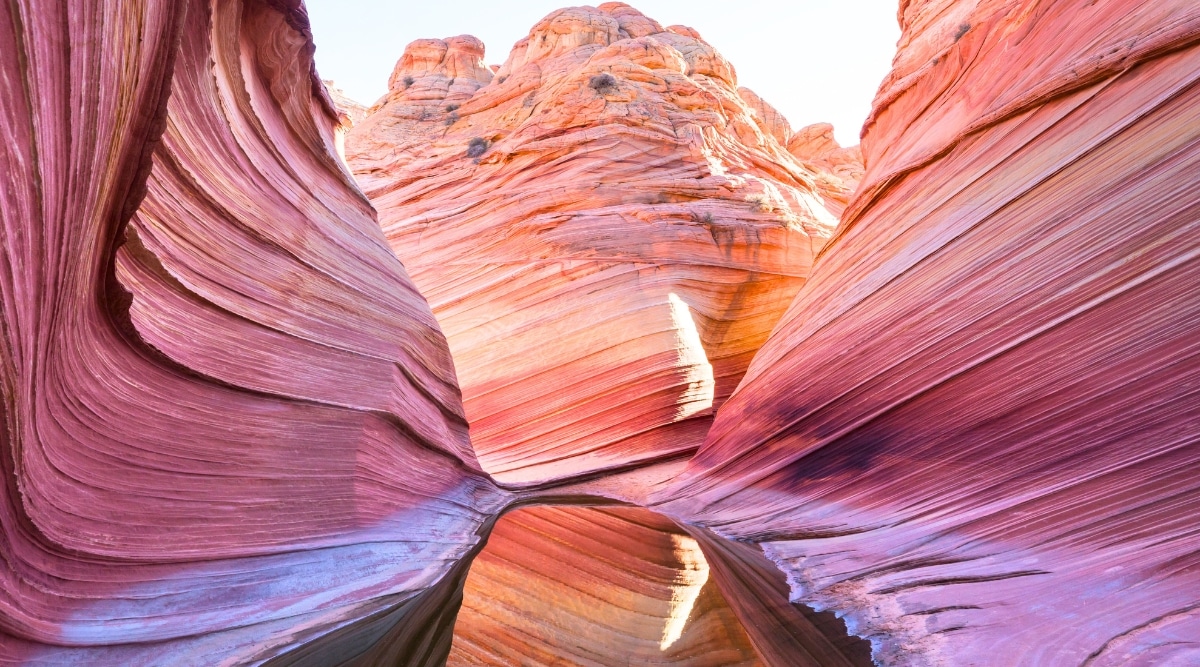 People
Family-friendly, Nature Lovers, Outdoor Enthusiasts, Cultural Explorers, Backpackers and Camping Enthusiasts
Weather
30-97 Degrees Farenheit Depending on Season
Website
Engage with Nature's Majesty
Activities
Hiking the Renowned "Wave," Backpacking in Buckskin Gulch, Capturing Picturesque Landscapes, Bird Watching, and Enjoying Stargazing Opportunities
Peak Season
Spring (April to June) and Fall (September to November)
Hotels
Top Paria Canyon-Vermilion Cliffs Hotels
The Paria Canyon Vermilion Cliffs stretch over 280,000 acres. The cliffs are geological formations formed by sandstone, limestone, siltstone, and shale that has eroded over millions of years.
The name itself comes from the beautiful, rich red color that the cliffs exude – especially during sunset.
When you explore the area, you'll be treated to a variety of landscapes that you'll be hard pressed to find anywhere else.
Humans settled in the region around 12,000 years ago, with remains of Native American houses and structures scattered throughout the site.
This combination of natural and human history makes these cliffs an incredible, ancient monument that's definitely worth a visit.
Where Are the Paria Canyon Vermilion Cliffs?
This beautiful national monument is located in northern Coconino County, Arizona.
To get to the cliffs, you can come from Flagstaff by traveling north on U.S. Highway 89 to U.S. Highway 89A at the Bitter Springs turnoff. Alternatively, you can also travel from Kanab, Utah by taking U.S. 89 to the east or U.S. 89A to the south.
You can find maps online for the monument, as well as from the Paria Contact Station, the Kanab Visitor Center, and the Interagency Information Center. Keep in mind that the canyon itself doesn't have an information or visitor center.
11 Reasons to Visit the Paria Canyon Vermilion Cliffs
I'm sure that by now your interest is duly piqued! However, if you're not yet completely convinced, here are 11 reasons why you should visit the Paria Canyon Vermilion Cliffs.
Let's get started!
Witness Beautiful Rock Formations
The Paria Canyon Vermillion Cliffs are a geological wonder, so it's not just beautiful cliffs that await you — there are also other incredible rock formations around the area!
Possibly the most famous is The Wave, a beautiful rolling landscape that'll have you in awe of nature's raw power.
The Wave began its existence as sand dunes, which then solidified into sandstone over 200 million years ago. Rivers, streams, and floods then carved trough-like valleys into the stone, assisted by the wind and blowing sand.
Because of how important this place is to our country's incredible natural history, access to The Wave is heavily regulated. You'll need a permit to access the location, either by the advanced lottery (for trips four months in advance) or the daily lottery.
If you're lucky enough to secure a permit, you're in for the treat of a lifetime!
Getting to The Wave itself is challenging as it's a difficult hiking area, but the resulting sights are so rewarding they're well worth the effort.
Traverse Ancient and Winding Canyons
There are numerous beautiful hiking trails and areas in the Vermilion Cliffs National Monument, so make sure you pack your full adventure gear! There's really nothing more satisfying than a good hike with beautiful views.
The trails around the area range from easy to challenging. One of the more moderate trails is the Sun Valley Mine Trail; taking this trail treats you to sublime views, and you may even stumble upon mining artifacts along the way.
Bring your pooch along to this 2.5-mile, dog-friendly hiking path to enjoy all the sights along the way!
The trail traverses up the cliffs, and for your effort you'll be rewarded with an incredible view of the Glen Canyon when you reach the top.
Despite its desert landscape, Vermilion Cliffs National Monument is also home to stunning bodies of water and all sorts of weird and wonderful desert flora.
Desert plant life is always incredible to see and makes for a fun change from the plants you might be used to spotting in your garden or neighborhood.
There are a few different species of shrubs, trees, and flowers in the area. For example, sand sage is a unique, wispy gray shrub that has a beautiful smell that blooms from September to August.
The Vermilion Cliffs also has smaller oases locked deep within its formations. If you're willing to make the trip, one of the most famous bodies of water in the area is Lake Powell.
This incredible lake has nearly 2000 miles of shoreline, features a beautiful, deep blue hue, and sports some truly dramatic cliffs.
Although not within the Vermilion Cliffs territory, many visitors like to frequent Lake Powell because of the ambiance and water activities you can enjoy,
Capture Breathtaking Sunsets
The Vermilion Cliffs National Monument is beautiful at any time of the day, but the views at sunset have been described as "magical".
The reds and oranges that the sunset casts over the scarlet rock formations will blow you away – not to mention make for fantastic photos!
By itself, this otherworldly experience is enough reason to visit the cliffs. Make sure you bring your camera along so you can immortalize the way that the rocks seem to burn during sunsets. It's an experience you won't soon forget!
Encounter Wildlife
The Vermillion Cliffs are home to a large array of awesome wildlife species. This includes birds, reptiles, and mammals of all kinds, as well as certain species of fish in the rivers and lakes spotted around the area.
Living around the monument are bald eagles, golden eagles, mountain lions, mule deer, and more. One of the more interesting species to be on the lookout for is the bighorn sheep – an endangered animal that roams free around the Cliffs.
Bighorn sheep are able to climb and traverse rocky terrain and cliffs, so they have no issue living in the uneven terrain.
Another interesting animal that you may encounter here is the red-spotted toad. This little creature is usually only one and a half to three inches long and sports a brownish color with red spots.
It truly has an ingenious way of blending into the landscape around the cliffs, so you'll have to keep a sharp eye out to spot them!
Experience the Thrill of Off-Roading
There are no paved roads in the Vermilion Cliffs National Monument, so most of the area is considered off-road.
There's one main dirt road, but it can also frequently be difficult to travel on even in a four-wheel drive (especially if the weather isn't great).
Off-roading can be an extremely fun and exhilarating experience. Often, we're a little too used to the flat, paved roads of the city, so it's good to get out and experience new things.
Hold onto your hats – it's going to be a bumpy ride!
A Chance to Disconnect from the Hustle and Bustle
Everyday life can get exhausting, especially in a busy city or town. Traveling out into nature is a wonderful way to realign yourself and reset your body and mind.
Interacting with and spending time in nature has been proven to improve your physical, mental, and emotional health.
If you feel like you could use a break, stepping back from the hustle and bustle and immersing yourself in natural sights will revitalize you in no time.
The incredible sights within the Vermilion Cliffs National Monument will leave you feeling refreshed and reminded of the beauty of life and the earth; it's arguably one of the best places to take it slow and reconnect with the natural world!
Embark on Thrilling Rock Climbing Adventures
If you're a bit of a daredevil and want a new adventure, you have to try rock climbing at the Vermilion Cliffs. Because the rock formations are so diverse, they make for a great place to climb.
Dangling from hundreds of feet in the air, you'll be filled with adrenaline as you scale these beautiful, natural formations!
Of course, it's best to match your skill level with the climbing difficulty so you don't risk injuring yourself.
One popular place to climb is Tooth Rock, which is located at the center of the cliffs. From atop this structure, you'll have a fantastic view of the Colorado River.
Tooth Rock has been climbed by many experienced climbers, so if you're a fan of rock climbing, this will be right up your alley.
See Native American Petroglyphs
Around the Vermilion Cliffs area, you'll see hundreds of archeological sites, such as those of the remains of villages and Native American petroglyphs.
Petroglyphs are unique drawings and artwork on rock formations. These important artifacts of America's history tell beautiful and interesting stories, making them an incredibly valuable find.
Before Europeans settled in the US, the cliffs were inhabited by Native American people, including the Southern Paiute and the Navajo tribes.
These cliffs are sacred and special, so take care when you visit. Make sure to take only pictures and leave only footprints behind!
Camp Under a Star-Studded Desert Sky
You can camp absolutely for free at the Paria Canyon Vermilion Cliffs!
Out in the wilderness, light pollution is hardly seen, so you'll be able to enjoy a vast sky dotted with infinite stars.
Bring along your tent and camping gear and witness the starry view that humans have been in awe of for hundreds of thousands of years.
While you can set up camp in previously undisturbed places outside the wilderness area, there's also the option of staying in one of two campsites (the Stateline Campground and the White House) just outside the monument.
You can camp in these locations year-round and stay as long as you want! You may even want to go fishing in the bountiful Colorado River during your stay.
Hike Through Mesmerizing Slot Canyons
During your visit to the Vermilion Cliffs, you can also hike through the sublime canyons formed by the Paria River, just north of the national monument.
These slot canyons feature all sorts of breathtaking terrain and make for a wonderful setting for a hike.
The hiking route goes through some grassy areas, and you'll cross the river itself a few times. You won't usually bump into other hikers either, so it's a overwhelmingly peaceful, serene foray into the wild.
With the canyon's cliffs towering on either side of you, it's guaranteed to be an amazing and interesting experience!
The Bottom Line
If you ever needed a reason to visit the breathtaking Vermilion Cliffs … well, now you have eleven!
These cliffs are not just an important part of America's natural and human history, they're also a great way to get away from the business of life.
Experience stunning views of gorgeous rock formations and amazing flora and fauna; the Paria Canyon Vermillion Cliffs are a location you wouldn't want to miss!