37 Best Beaches in the United States
Looking for the perfect beach to go to for your next vacation? There are may different beautiful beaches to choose from, all across the United States. In this article, we take a look at our favorite beaches, with names and pictures of each!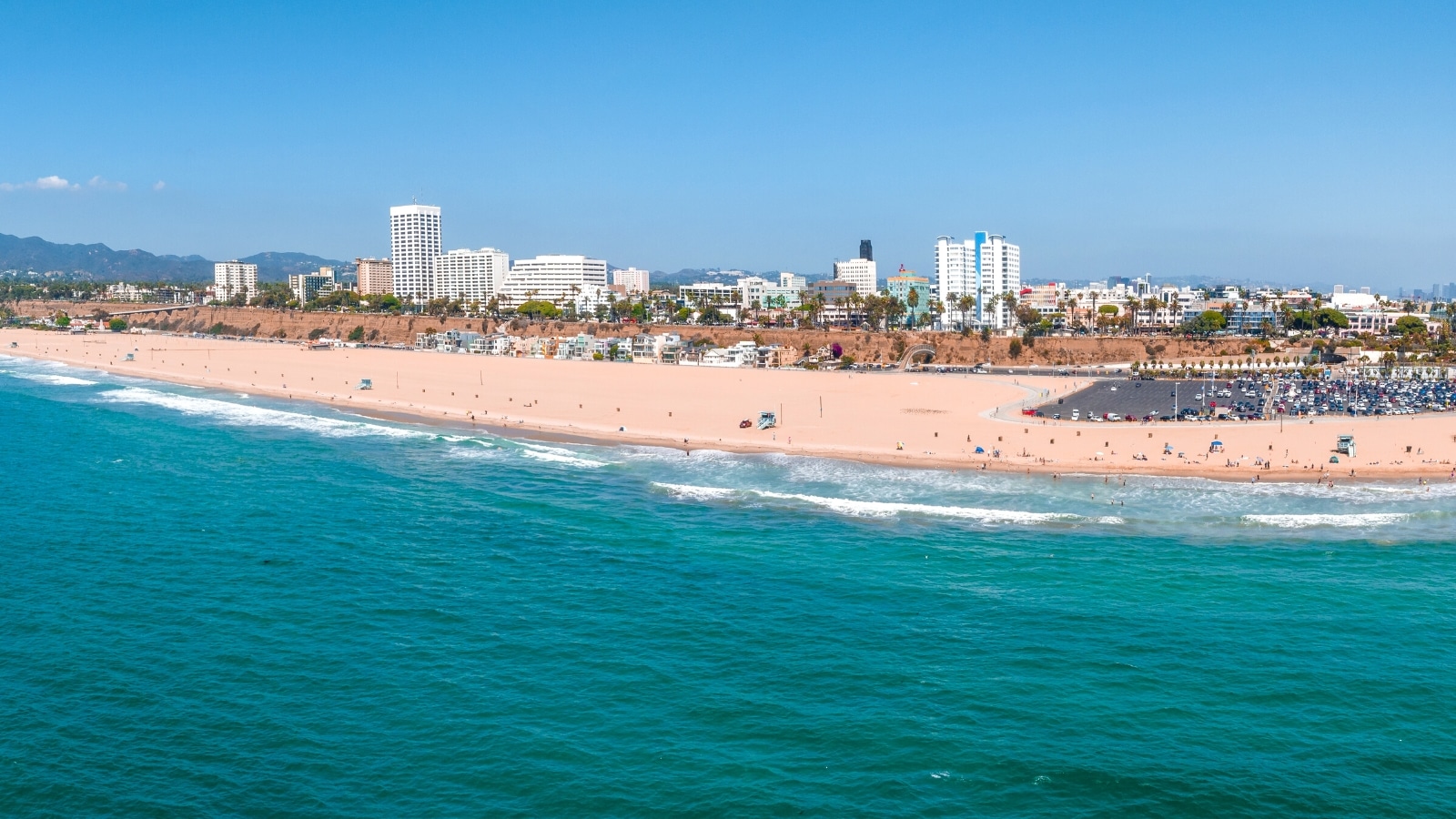 If you love the beach, you're in for a treat! While the United States is known for its beautiful lakes, it's also well known for having some of the most beautiful beaches on the planet!
We scoured the country to bring you this fantastic selection of sandy havens ideal for soaking up the rays, splashing in the waves, or simply unwinding with a good book.
Whether you're planning a family vacation, a romantic getaway, or a solo excursion, we've got you covered! So grab your sunscreen, fill your beach bag, and prepare to explore some of the most beautiful coastlines in the United States!
The vibrant atmosphere, crystal-clear waters, and powdery-white sand of this famous Floridian paradise are legendary.
South Beach is the ideal location for those seeking both relaxation and excitement. It provides a unique mix of tranquility during the day and a pulsating nightlife scene after the sun goes down.
Stroll down Ocean Drive, which is lined with Art Deco buildings, chic boutiques, and trendy restaurants just steps from the ocean.
If you enjoy water sports, you'll love the variety of activities offered, which includes everything from jet skiing to paddleboarding.
If you prefer a more relaxed atmosphere, simply lounge on your beach towel or take a leisurely dip in the warm Atlantic ocean.
This Jekyll Island shoreline's allure offers a genuinely distinctive and picturesque experience. Driftwood Beach is a photographer's paradise and a haven for nature enthusiasts, thanks to its eerie, otherworldly charm.
The lovely, sun-bleached driftwood fragments that line the shore — remains of prehistoric marine forests — have given the beach its name. These gnarled, twisted tree trunks and branches offer an intriguing background for leisurely strolls or romantic picnics because they stand out so strikingly against the golden sand.
In addition to its natural beauty, Driftwood Beach is a great place to go birdwatching because it is home to a diversity of coastal birds.
Bring your dog along for some fun in the sun, as the shoreline is dog-friendly as well.
This picture-perfect beach on Oahu's windward side is a tropical paradise that will immediately envelop you in a state of bliss and ease.
Famous for its soft, powdery-white sand and emerald-colored seas, Lanikai Beach is the ideal location for swimming, snorkeling, and sunbathing.
Just off the coast, the magnificent Mokulua Islands provide a breathtaking background that adds to the beach's idyllic appeal.
Don't skip the chance to witness a magnificent sunrise while you're there, or go on the nearby Lanikai Pillbox Hike for panoramic views of the beach and the surrounding area.
Lanikai Beach is a genuine oasis in paradise because it has managed to preserve a feeling of tranquility and exclusivity despite its popularity.
The hopping and family-friendly Myrtle Beach in South Carolina is ideal for swimming, sunbathing, and creating sandcastles, thanks to its soft, golden sand and calm waves. Water sports and activities like parasailing, jet skiing, and banana boat excursions are abundant for thrill-seekers.
There are many activities to keep the whole family entertained away from the shore, with numerous stores, eateries, and amusement park attractions. You can even take a ride on the recognizable SkyWheel on Myrtle Beach Boardwalk.
Don't forget to check out the area's charming mini-golf courses, Broadway at the Beach, and the neighboring Ripley's Aquarium.
Laguna Beach — well-known for its artistic community, breathtaking coves, and dramatic cliffs — provides a tranquil coastal getaway that expertly combines the splendor of nature with a dash of refinement.
The pristine coastline is ideal for swimming, surfing, and tanning due to its golden sand and clear waters. There are also many tide pools in the area, which are a great chance to explore and see marine life up close.
The lively arts community in Laguna Beach is also home to several galleries, including the Laguna Art Museum, the annual Pageant of the Masters, and the Sawdust Art Festival.
Wander through the attractive downtown area to find unique shops, top-notch eateries, and welcoming cafés.
This state park is tucked away along the Emerald Coast and offers more than a mile of sugar-white sand, dunes, and emerald-green waters.
It's the perfect getaway for those looking for peace and serenity in nature!
The calm waters and gentle waves of the beach make for ideal circumstances for swimming, tanning, and constructing sandcastles.
A network of nature trails can be found throughout the park where you can experience the diverse coastal ecosystem, see wildlife, and be amazed by the enormous sand dunes.
The park provides fully equipped campsites with all the amenities you need to fully immerse yourself in the tranquil surroundings, for tourists looking for a longer stay.
This expansive, sun-drenched shoreline — just across the harbor from downtown San Diego — offers a special fusion of history, charm, and natural beauty that is sure to enthrall any beach fan.
The beach's gentle swells and soft, golden sand make it the ideal place for swimming, surfing, and sunbathing. With its famous red-tiled roof and Victorian design, the Hotel del Coronado lends the setting a touch of glitz and romance.
Explore Coronado Island's charming streets, where you'll discover a variety of boutique stores, mouthwatering restaurants, and verdant parks.
For breathtaking views of San Diego's skyline, don't forget to hire a bike or go for a leisurely stroll along the Coronado Bay Bridge.
Discover the serene beauty of Corolla Beach in North Carolina, a hidden gem on our list. Visitors can find serenity and quiet on this serene stretch of coastline, tucked away in the northern section of the Outer Banks.
Corolla Beach is ideal for swimming, shelling, and sunbathing thanks to its broad, pristine shoreline and gentle waves.
Additionally, there are a lot of wild horses in the region, and you might see one of these magnificent animals ambling along the beach.
The nearby Currituck Beach Lighthouse and the historic Whalehead Club (which both provide a glimpse into the area's colorful past) are great places for history buffs to explore.
For nature lovers, the nearby maritime forests and marshes offer plenty of chances for birdwatching, as well as investigating the local ecosystem.
This Gulf Coast paradise provides tourists of all ages with the ultimate beach experience thanks to its fine, white sand and warm, clear waters.
The beach is ideal for swimming, tanning, and participating in a variety of water activities. Paddleboarding, jet skiing, and parasailing are all popular, due to its calm waves and gentle slope.
The bustling Pier 60, where you can find live entertainment, regional craftspeople, and stunning sunset views, is a feature of Clearwater Beach.
The bustling Ocean Walk Promenade offers a variety of stores, eateries, and cafés to sate your cravings just a few steps from the ocean.
Don't pass up the opportunity to visit the nearby Clearwater Marine Aquarium or go on a dolphin-watching excursion, if you're looking for adventure a little further afield!
This crowded 10-mile stretch of beach offers unending excitement and enjoyment for beachgoers of all ages, making it a well-liked vacation spot on the East Coast.
The beach's inviting sand and cool seas make it the perfect location for sunbathing, swimming, and engaging in water sports like boogie boarding and surfing.
The well-known Ocean City Boardwalk, a center of activity, offers a variety of stores, restaurants, and amusement park attractions to amuse everyone.
Beyond the water, thrill-seekers can enjoy the waterslides and roller coasters at the Jolly Roger Amusement Park, while nature lovers can experience the nearby Northside Park's scenic beauty.
And don't fail to indulge in some delectable Ocean City favorites like Fisher's Popcorn and Thrasher's French Fries!
This section of the coastline, also known as "Surf City USA", is a haven for beach lovers, sunbathers, and surfers equally!
In addition to providing the ideal conditions for swimming, surfing, and sunbathing, the beach's golden sands, consistent waves, and laid-back atmosphere all contribute to its allure.
Numerous surf schools are available in the area for those seeking to improve their surfing techniques, making it a great location for both new and experienced surfers.
Beyond the shore, the vibrant Huntington shore Pier offers guests breathtaking ocean views, quaint shops, and mouthwatering dining choices.
You can take leisurely walks through the wetlands, and get a closer look at the local animals at the Bolsa Chica Ecological Reserve, which is close by.
Kaanapali Beach on the west shore of Maui has everything you could possibly want in a tropical getaway.
Miles and miles of pristine, fine sand? Check!
Azure, transparent waters? Check!
Abundant sunshine? Absolutely!
Particularly at Black Rock, where you can see a variety of colorful fish and sea turtles, the shoreline is excellent for snorkeling. Cliff diving ceremonies off of Black Rock even take place every evening, thrilling to witness.
After you've had your fill of the beach, there's a cool beach walk that links all the nearby hotels, eateries, and stores. Ideal for taking a leisurely walk or stopping for a break to eat!
This well-known shoreline in Michigan is a true treasure! It's the ideal location for spending a calm and leisurely day with family or friends. The beautiful shoreline with soft sand and calm waves almost make you feel like you're in the ocean.
Swimming, sunbathing, or simply relaxing with a nice book are all great options here. A beautiful trail is also close by and is excellent for jogging or walking. The views of the lake and the nearby dunes are beautiful – you'll adore them.
In addition, Central Beach is near quaint communities like New Buffalo and St. Joseph, where you can shop or dine after spending the day at the beach.
This beach, which can be found in the charming town of Manchester-by-the-Sea, has a unique quality — its sand truly "sings"!
Yes, you read that right — the sand makes a squeaking or "singing" sound when you walk on it!
The shore itself is lovely, with fine, clear waters and soft, golden sand. It's ideal for activities like diving, tanning, and picnics with loved ones. There is even a lovely walking path nearby that leads to some breathtaking views if you're feeling ambitious.
You can take the train from Boston to Singing Beach and experience a beautiful ride there as well. Once you arrive, the area has a small-town feel with adorable cafés and stores close by.
Nantucket, Massachusetts's Siasconset Beach is a true treasure. It's a serene, picturesque location that's ideal for spending a peaceful day by the water.
The shoreline is very attractive, with soft sand and clear waters. Swim, sunbathe, or simply stroll slowly along the shore are all options.
If you're an early riser, you're in for a treat, because the region is renowned for its spectacular sunrises!
The charming Siasconset Village, which has some adorable little shops and restaurants to explore, is also near Siasconset Beach. There is a lovely bluff walk nearby that provides breathtaking ocean views if you're in the mood for a leisurely stroll.
Waikīkī Beach is one of the most iconic beaches in the U.S. You can find it on the island of Oahu in Hawaii, and trust me, it's a must-visit!
This beach is absolutely stunning, with its white sandy shores stretching out for about two miles. The swimming-friendly water is a brilliant blue color and is also extremely warm.
Waikīkī is always bustling, which can occasionally result in crowds, but hey, that's part of the appeal!
There are a ton of activities available here as well, such as beginner surfing classes, or simply relaxing on the beach while sipping a fruity beverage from one of the nearby stands.
What's also really amazing is the renowned Diamond Head crater. It's visible from the shore and makes for an amazing backdrop for Instagram-worthy pictures.
This park is more than just a beach — it's the ideal place for families and friends to spend valuable time together. It's located in the charming town of Orange Beach.
A nice sandy beach with calm, shallow waters can be found in the park itself. This beach is ideal for swimming, particularly for young children. Even better, there's a fun area for the kids to enjoy!
Additionally, the park has picnic spaces with grills where you can enjoy a BBQ with your friends or family.
Make sure you have your camera available because the sunsets are absolutely stunning from the pier!
The park has paved walking pathways as well, making it a wonderful location for a leisurely stroll or an early-morning jog.
Isla Blanca Beach in Texas is a real treat! This beautiful beach is located at the southern tip of South Padre Island, absolutely worth the trip.
Isla Blanca is fantastic because it provides a balance of rest and activity, so there is something for everyone.
The beach itself has smooth, white sand that is wonderful to walk on, and the warm, clear water is ideal for swimming in.
You're in luck if you enjoy water activities! Popular activities include surfing, kiteboarding, and even jet skiing on Isla Blanca. There are many locations close by where you can rent equipment or take lessons if you're new to these sports.
The jetties, which are a haven for numerous fish species, will appeal to fishermen. See what you can bring in by casting your line!
You can even embark on a sunset cruise or a dolphin-watching trip from the marina.
Tucked away on Sanibel Island, this stunning beach is a bit off the beaten path, making it a perfect spot to escape the crowds and enjoy some peace and quiet.
What sets Bowman's Beach apart is the abundance of seashells that wash up on its shores. The variety and colors of shells that you can discover here will truly astound you! Bring a bucket, then start gathering some treasures.
The beach's soft, powdery sand is ideal for burying your toes in, and the tranquil, clear water is perfect for swimming. If you want a little more adventure, you can even hire a kayak or paddleboard close by.
The area's network of nature paths, where you can see local wildlife like birds and even the odd gopher tortoise, will appeal to nature lovers as well.
Additionally, there are restrooms, picnic areas, and BBQ grills, making it very handy for a full day of fun.
Located within the Pictured Rocks National Lakeshore, this gorgeous beach is a must-visit if you're exploring the area. It's not your typical beach destination, but it's definitely worth checking out.
The untamed grandeur of Twelvemile Beach is what sets it apart. The waters of Lake Superior are clear and chilly, but the sandy shore extends for miles. Go for a refreshing swim or just dip your toes in if you're bold enough!
This shore is ideal for those who enjoy a little adventure — it's not just for sunbathing! Alongside the beach, there is a beautiful hiking path that provides breathtaking views of the shoreline and the surrounding forest. Additionally, the beach is near the Twelvemile Beach Campground, allowing you to extend your visit by camping overnight.
Twelvemile Beach is also a great spot for rock hounds, as you can find some really cool rocks and driftwood washed up on the shore.
And keep your eyes peeled for wildlife, like deer and even the occasional black bear (just remember to keep a safe distance!).
Situated on the sunny south shore of Kauai, this beautiful beach is a favorite among both locals and tourists alike. Poipu Beach ought to be at the top of your agenda if you're organizing a trip to Hawaii!
The beach's mixture of volcanic rock and golden sand results in an unusual and beautiful environment. The warm, clear seas are ideal for swimming and snorkeling.
Since Poipu Beach is home to a variety of marine life and a colorful coral reef, it is well known for its incredible snorkeling possibilities.
The small, enclosed lagoon will be a hit with families because it offers a calm, secure place for kids to splash around.
Additionally, if you're fortunate, you might see some critically endangered Hawaiian monk seals lazing on the sand! Just be sure to keep a good gap between you and them while admiring!
This beach is a real local favorite, and it's not hard to see why! Located on Oahu's southeastern shore, Sandy Beach is perfect if you're after some fun in the sun and a bit of adventure.
The beach itself is well-known for having strong shore breaks and golden sand, which attracts a lot of bodyboarders and bodysurfers. But be cautious because the waves can be quite strong, so it's best to keep to the shallower waters if you're not very confident, or leave the swimming to experienced beachgoers.
The fact that Sandy Beach is a little less crowded with tourists than some of Honolulu's other beaches is one of its finest features. This means that while you're here, you'll get to experience a more genuine side of Hawaii.
The adjacent Halona Blowhole — a natural wonder where you can see water shooting up into the air through a volcanic rock formation — is another cool feature of Sandy Beach.
The dramatic Pacific coast and landmark Haystack Rock are what make this lovely beach so well-known. This is the place for you if you enjoy the outdoors or simply want to get away to somewhere beautiful! The views are absolutely breathtaking on a clear day.
The sand on the shore itself is soft and golden, making it ideal for strolls along it, or for making sandcastles. Don't let the ocean's chilly temperature deter you from putting your toes in, though!
Animals like puffins and creatures from tidal pools can be found in abundance at Cannon Beach.
Don't forget to look around Haystack Rock's tide pools, either — you'll discover starfish, sea anemones, and more there.
There's a charming little town nearby, with cute shops and eateries, perfect for a post-beach treat.
South Carolina's Coligny Beach Park is a great place to have some fun in the weather. This beach, which is on Hilton Head Island, is adored by both residents and tourists for its immaculate sand and welcoming atmosphere.
The shoreline has calm waves that are ideal for swimming or playing in the water. Consider renting a bike and exploring the local paths if you're looking for more activity.
Additionally, Coligny Beach Park offers excellent amenities like restrooms, showers, and chair rentals for the beach.
The adorable boardwalk area is a must-see where you can eat, buy for trinkets, or both.
One suggestion: come early, or take advantage of the free shuttle service — parking can be challenging during peak season!
On the shores of Lake Erie, Ohio's Headlands Beach State Park is a real gem. With the state's longest natural shoreline, it's the ideal location for a fun-filled day of relaxation.
The lake's calm waters are perfect for swimming, and the beach's soft sand is perfect for relaxing or constructing sandcastles. It is a picturesque getaway with a background of lush vegetation.
Visitors can bring a picnic and take advantage of the park's shaded sections, or they can take a leisurely stroll along the coast. For additional convenience, there are restrooms and a concession stand.
This famous beach is well-known for its eclectic ambiance and busy promenade, making it a distinctive and exciting location for a day of sunbathing.
While the ocean provides excellent chances for swimming and surfing, the beach itself has soft, golden sand that is ideal for sunbathing. However, the vibrant street performers that line the boardwalk and the lively ambiance are what really distinguish Venice Beach.
Make sure to visit the renowned Muscle Beach while you're there to see some truly impressive workouts. Don't forget to check out the funky stores selling everything from trinkets to bohemian clothing as well as colorful street art.
Just remember, Venice Beach can be quite crowded, but that's all part of its charm! So grab your sunglasses and get ready to soak up the quirky Cali vibes at Venice Beach!
This breathtaking beach is located inside Olympic National Park and offers untamed beauty and a peaceful environment. This makes it the perfect location for photographers and nature enthusiasts!
The beach's distinctive, pebbly sand and eye-catching sea stacks, which form unforgettable scenery, are well known.
Even though the waters can be a little chilly, tourists continue to explore tide pools that are home to intriguing marine life.
The excess of driftwood —which adds to Ruby Beach's wild, untamed appeal — is one of its most notable features.
It's ideal for having a leisurely stroll while admiring the stunning scenery, or even capturing a breathtaking sunset.
Sunset Beach in North Carolina is a dreamy location for those looking for a relaxed beach vacation. This lovely barrier island beach has a tranquil ambiance and stunning views, making it ideal for a relaxing getaway!
The beach itself has soft, golden sand that's ideal for lounging or leisurely strolls, and the gentle waves encourage you to cool off in the water. It's also a great place for beachcombing, with plenty of fossils to be found.
Sunset Beach's sunsets are one of its main draws! Take in the breathtaking change of the sky as the sun sets below the horizon — it's truly magical.
The neighboring town has a charming, small-town atmosphere to discover, with quaint shops and eateries. 
Massachusetts' Coast Guard Beach is a genuine New England treasure! This picturesque beach on Cape Cod is part of the Cape Cod National Seashore and offers breathtaking views and a charming, tranquil ambiance.
The beach has soft sand that is ideal for sunbathing or building sandcastles, and the cool, refreshing waters encourage you to swim or try your hand at surfing. You can also tour the intriguing tidal flats teeming with marine life at low tide.
The historic Old Harbor Life-Saving Station, which lends a touch of charm and history to the picturesque landscape, is a highlight of Coast Guard Beach.
Little Hunters Beach in Maine is a treasure waiting to be found! This small, secluded beach in Acadia National Park provides a serene escape from the hustle and bustle of everyday living.
The shoreline is one-of-a-kind, with smooth, round cobblestones that make a captivating sound as the waves roll in. The clear, cool waters are ideal for a refreshing dip, and the nearby forest serves as a beautiful backdrop.
The tide pools at Little Hunters Beach are a highlight, where you can see intriguing marine creatures like sea stars and crabs.
Don't forget to bring your camera to capture the enchanting beauty of the beach!
Lighthouse Beach Park in Florida is a charming destination that combines beach fun with a dash of heritage! This beautiful beach on Sanibel Island is renowned for its iconic lighthouse, which adds a unique charm to the landscape.
The beach itself has soft, white sand that is ideal for sunbathing, and the calm, warm waters encourage you to swim or snorkel. It's also a great spot to look for seashells, so bring a bucket!
While you're there, take a stroll along the beach and check out the nearby lighthouse, which goes back to the nineteenth century. 
Grand Isle Beach in Louisiana is an excellent choice for a genuine Southern beach vacation! This seven-mile-long barrier island features sandy beaches, warm waters, and a relaxed ambience ideal for a relaxing getaway.
The beach itself is perfect for sunbathing, swimming, or simply strolling along the shoreline. It's also a wonderful place for beachcombing, so look for unusual shells and other treasures!
Grand Isle Beach's fantastic fishing possibilities are one of its highlights. It's a popular location for anglers of all skill levels because it offers both beach and pier fishing.
While you're there, tour the neighboring town, which has charming shops, delectable seafood restaurants, and friendly locals.
Wrightsville Beach in North Carolina is a fantastic place to go for some excitement in the sun! With its pristine sands and crystal-clear waters, it's no surprise that this beach is popular with both locals and visitors.
The shore is ideal for swimming and sunbathing, and you can also try your hand at surfing or paddleboarding. If you prefer to relax, take a leisurely stroll along the shoreline and take in the landscape.
The neighboring town, which has many shops, restaurants, and attractions, is one of the best things about Wrightsville Beach.
Keep in mind that it can get a little crowded during high season.
First Beach in Washington is an incredible spot for a beach getaway with a Pacific Northwest twist!
Located in the coastal town of La Push (famous from the Twilight series!), this beautiful beach is surrounded by lush forests, making it a unique and picturesque destination.
While the waters can be a bit chilly, they're great for a refreshing dip or even some surfing if you're up for the challenge!
A highlight of First Beach is the dramatic sea stacks that dot the landscape, offering stunning photo opportunities and a chance to spot wildlife like seals or sea birds.
Nearby, you'll find the Quileute Indian Reservation — be sure to stop by to pay your respects.
Honokalani Beach on the Hawaiian island of Maui is a genuine tropical paradise!
This stunning beach, tucked away within Wai'anapanapa State Park, is renowned for its striking black sand, formed from volcanic rock, which creates an otherworldly atmosphere.
The beach itself is ideal for sunbathing, and the crystal-clear waters encourage you to swim or snorkel. For an added feeling of adventure, visit the local lava tubes and sea caves!
Honokalani Beach's lush surroundings are a feature, with bright green foliage and dramatic cliffs framing the picturesque scene.
It's an ideal location for taking breathtaking photographs or simply taking in the tranquil beauty.
Carmel Beach in California is a picture-perfect destination for beach lovers and romantics alike!
Nestled along the Monterey Peninsula, this stunning beach boasts soft, white sand and a dreamy atmosphere that will make you feel like you've stepped into a postcard.
The shoreline is perfect for sunbathing, and the clear waters provide a refreshing swim or an opportunity to try your hand at surfing. Take a stroll along the shoreline, appreciating the elegant cypress trees and iconic fairytale cottages that dot the landscape.
Carmel Beach's spectacular sunsets are one of its features. Stay for the evening show, when the sky changes into a kaleidoscope of colors that will take your breath away.
Carmel-by-the-Sea is a charming nearby town with quaint stores, art galleries, and delectable eateries.
Siesta Beach in Florida is an essential must-see for beachgoers!
This beautiful beach on Siesta Key is famous for its powdery, white-quartz sand that remains cool even on the hottest days, making it ideal for sunbathing and strolling along the shoreline.
The beach has crystal-clear waters for swimming or snorkeling, and the gentle waves make it a great location for families. There are plenty of chances for beach volleyball, paddleboarding, and even kayaking if you're feeling active!
The vibrant sunsets that paint the sky in breathtaking hues of orange, pink, and purple are one of the highlights of Siesta Beach. It's the ideal setting for a sunset beach stroll or a romantic picnic!
Key Takeaways
The United States is home to a diverse array of stunning beaches, each with its own unique charm and attractions.
From the laid-back vibes of Siesta Beach in Florida to the dramatic landscapes of Ruby Beach in Washington, there's a beach paradise waiting for everyone.
Whether you're seeking a serene escape, a bustling boardwalk, or an unforgettable sunset, these 37 best beaches across the country are sure to impress.
Grab your sunscreen, pack your beach gear, and get ready to explore the beauty and excitement of these U.S. coastal gems!