24 Hours in Napa Valley: One Day Itinerary
Do you only have 24 hours to spend in Napa Valley? If so, there's plenty of things to do, but you have to plan out the perfect day trip! In this article, travel enthusiast Alicia Broggi shares exactly how she'd plan the perfect day trip to Napa Valley, California!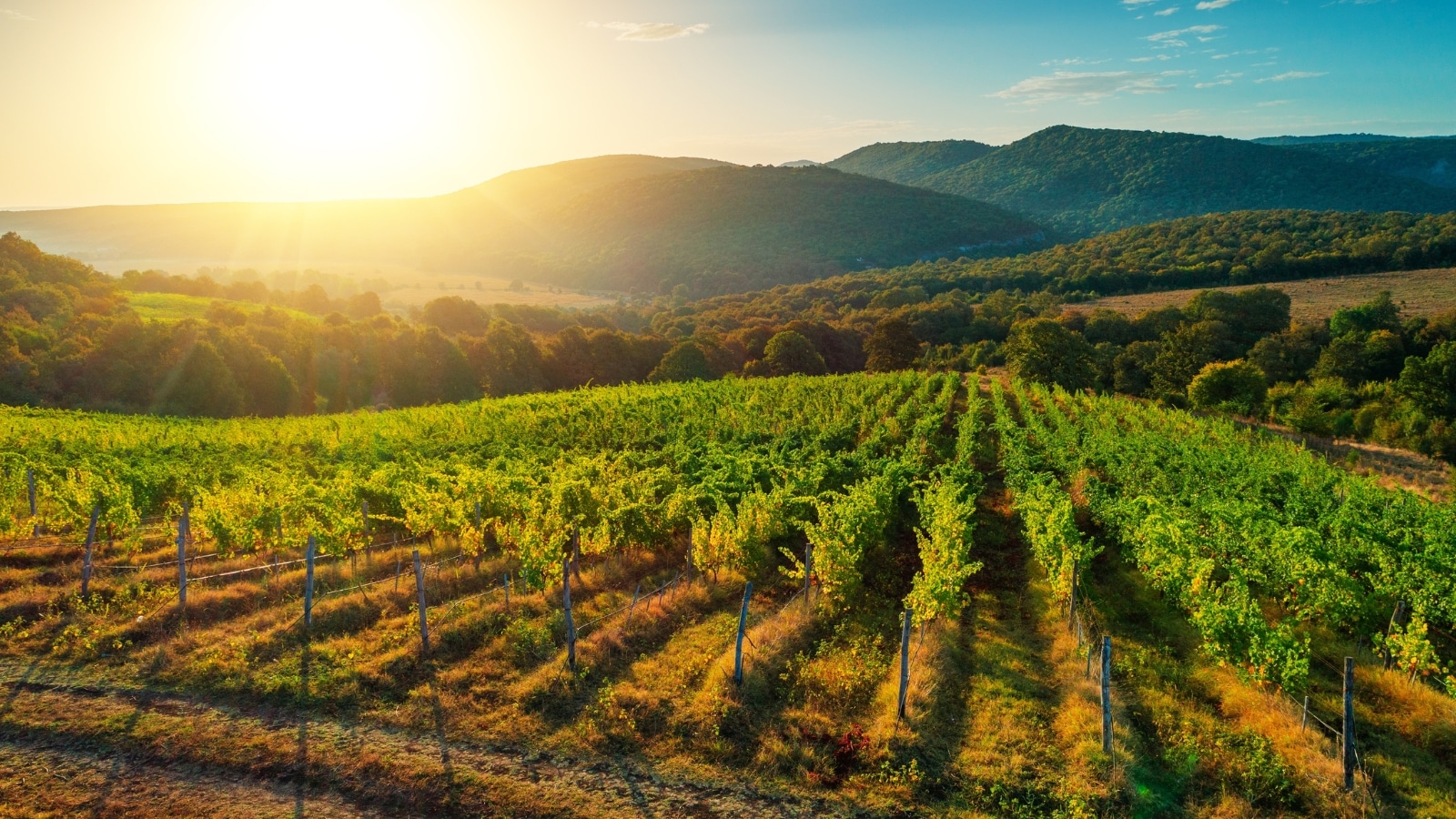 In a blind-tasting dubbed the 1976 "Judgement of Paris," two Napa Valley wines beat their French competition, sending shock waves through the world of oenophiles. Now, crowds flock to Napa Valley to enjoy its world-class wines at their origin. Even beyond its wines, though, the region has much to offer visitors by way of "the good life."
You can find fabulous restaurants, spas, and natural hot springs. There are bicycle tours through vineyards and hot-air balloon trips with stunning views. So here's an itinerary for a 24-hour trip to remember–unless, of course, your pleasures have an amnesic effect.
First, though, check out this map of Napa Valley. The region is an "appellation," with nested appellations within it. There are legally defined geographic zones that can be included in the names of wines made from the grapes grown here.
Appellations are important because they have associated flavor profiles features, like flavor profiles. So this could theoretically impact how you choose the wineries you visit. That said, the recommendations in this article surround Yountville and Napa, to minimize time in a car.
Before jumping into the day plan, it might also be useful to know that the grape-harvesting season is between August and October. This is the most popular time to visit. However, there are also benefits to visiting in the off-season. For instance, if you decide to brave the (temperate) winter months, you will be rewarded with lower costs and fewer crowds. Whenever you decide to visit, here are some soaring recommendations.
Sunrise Views from a Hot Air Balloon
Begin your day by watching the sunrise from a hot air balloon with Napa Valley Aloft. A pre-dawn start – to get to the launch – might be painful, but the payoff is panoramic views of the vineyards and surrounding mountains. And these balloon rides get reviews that are as glowing as the early morning light. (For more logistical information on the balloon rides, check out our blog post 31 Things to Do in Napa Valley.) If you're up for an adventure, give this a go!
Grab Breakfast at These Restaurants
Fortify yourself for the next activity with breakfast in Yountville or Napa. Both towns have a Model Bakery, which comes highly recommended for its Stumptown coffee and excellent baked goods. The English muffins, in particular, have been included on Oprah Winfrey's "favorite things" list, multiple times, and she has confessed to having them flown to her home when the craving strikes.
The Model Bakery site in Napa has the added benefit of being located in the Oxbow Public Market. If you go to this location, take the time to peruse the other stalls. There is even a Ritual Coffee, of San Francisco fame (lest Oprah lets you down).
Or maybe you are seeking something different altogether, something a little more…French. Consider breakfasting at the highly acclaimed Bouchon Bakery in Yountville. This bakery is run by Thomas Keller of the nearby (world-famous) restaurant The French Laundry. Oooh là là!
Biking Through the Vineyards
After breakfast, take in more views and get some exercise with Napa Valley Bike Tours. They offer half-day as well as full-day tours, and the half-day option is my recommendation for a 24-hour visit. There's even a Hot Air Balloon + Bike Tours Package.

But let's talk logistics. If you do the Half-Day Napa Valley E-Bike Tour, you can expect to cover 12-14 miles with vineyard views and one winery stop. This tour lasts from 9:30 AM to 1:30 PM. So if you've already done the hot air balloon tour, there won't be much time for breakfast in between. Also, you may be looking at a late lunch. If those gastronomical considerations aren't prohibitive though, go for it!

Concerned about being too slow on the bike tour–or too fast? Each rider is kitted out with an e-bike to help maintain a shared group pace. This allows slower riders to get a motorized boost, while faster riders can turn off the engine and grind it out. Naturally, the fresh air and exercise will be excellent aids in building up your appetite before lunch.
Grab Lunch at These Eateries
In the Napa Valley food scene, there's a high value on organic ingredients that are fresh, seasonal, and local. Farmstead Restaurant embodies that value. As part of the farm-to-table movement, it sources as much food as possible from its own Long Meadow Ranch. The menu features meat from their grass-fed cows and selections from the more than "500 varietals of organic heirloom fruits and vegetables" that they grow (as their website explains).

Although their menu changes seasonally, here's a taste of their current offerings. Current menu items range from oysters on the half-shell to cheeseburgers, Dungeness crab rolls to chili, and grass-fed beef tartare to chicken wings. You can also find delectable vegetarian options such as wood-grilled artichokes and caramelized beets.
Looking for something faster and less-expensive instead? Try Gott's Roadside. The chefs at Gott's use locally sourced organic ingredients in a creative twist on classic American fast food. Their list of burgers spans from conventional beef to a vegetarian option to one with kimchi. Alongside tacos and hotdogs, there's chicken schnitzel. Once your stomach is solidly lined, turn your attention to Napa Valley's main attraction: the wine.
Early-Afternoon Vineyard Visit
It's a common recommendation to visit up to three vineyards in a day. Since the morning bike tour already included one, I'm including options for two more vineyard visits below. That said, there's enough packed into this plan that you could skip one (or all) of the vineyard visits and still have a wonderful time.
So decide on how many vineyards you wish to visit, and as always with intoxicating substances: know thyself! Also, please plan safe transportation ahead of time–whether with Uber or a designated driver. Safety first.

Now, to the vineyards! Here are three options to choose between for your early-afternoon vineyard visit. The Italian-styled V. Sattui Winery is very popular. It offers over 60 varieties of wines, with the Cabernets and Zinfandels receiving especially strong reviews. Reservations are highly recommended for wine tastings, as spots do fill up.
Those who wish to simply stroll the estate's beautiful grounds without drinking need no reservation. You can even picnic here (if lunch didn't hold you)! V. Sattui has a well-stocked deli market that predates those restrictions. It also has a food truck from 11.30 AM to 3.30 PM on the weekends.

As a second option, Mayacamas Vineyards is less-crowded and a little more "off the beaten path." They have excellent Cabernets, and visitors enthuse over the Chardonnays and Merlots. Getting here involves a steep and winding drive, but you'll drink with fantastic views!
For a third option, consider O'Brien Estate. Guests appreciate its low-key, comfortable atmosphere and the personal attention they receive. This winery gets described as refreshingly quaint, in contrast to some of the more-commercialized alternatives.
One of the wines that guests especially rave about is "Seduction," a Bordeaux Blend. Please note that O'Brien Estate requires visitors to be at least 21 years old, though, and they offer tastings by reservation only.
Mid-Afternoon Vineyard Visit
In case you decide to go for a third vineyard visit, here is a small introduction to two more. Castello Di Amorosa is kid friendly and an experience to visit. This winery was passionately, one might even say obsessively, created to adhere to the style of a 14th-century Tuscan castle.
According to its website, it features "a moat, drawbridge, five towers, high defensive ramparts, courtyards and loggias, a chapel, stables, an armory, and even a torture chamber." There are also animals on the grounds, such as emus, peacocks, and goats.

The founder, Dario Sattui (yes, he is also the founder of V. Sattui Winery), imported vast quantities of antique building materials to make the castle as "authentic" as possible. According to the website, "It took more than 8,000 tons of hand-chiseled local stone and nearly one million antique bricks imported from Europe to complete the castle." I saw one estimate that this construction project cost over $30 million.
For a less sensationalist and more-affordable alternative, Beringer Vineyards is the longest continuously run winery in Napa Valley. Their Cabernets score especially well with reviewers, as do their Merlots and Chardonnays. One popular technique that they use is bourbon-barrel aging. They are also one of the vineyards that offer a discount if you buy a third-party "Wine Pass" (see this list for more on that).
Late-Afternoon Spa Treatment
Detox and relax, after your flurry of activity, in one of Napa Valley's many spas. There are solid options in Napa and Yountville, but the city of Calistoga deserves special mention for its hot springs.

In Napa, the "Spa Terra" at The Meritage Resort and Spa is located underground in the resort's wine cave. Visitors love its vibe! Another Napa option that is warmly reviewed is Greenhaus Day Spa, which has an impressively extensive list of treatments.
For example, you can book a "contour wrap" that was "developed by a bio-chemist from the UCLA medical center," or choose between various facial and mani-pedi options, or go in for waxing. They also offer a wide range of massages, from hot stone massages to hot wax massages to Swedish massages.
Let's say your hotel is in Yountville, though, and you want to squeeze in a quick visit to the spa before your dinner reservation. The b Spa Therapy Center at Bardessono Hotel might be more convenient. Guests at the Bardessono can have their appointments either in their room or in the spa.
Calistoga might be too far north to conveniently fit into your day plan, but it does have hot springs. You can find spa treatments using the hot springs at the Golden Haven Hot Springs Spa, Calistoga Spa Hot Springs, and Indian Springs Spa. Afterward, it will be time for dinner.
Fine Dining For Dinner
The French Laundry is unquestionably a memorable dinner option. It has earned three Michelin stars and a reputation for being one of the best restaurants in America, if not the best. Anthony Bourdain allegedly called The French Laundry the best restaurant in the world. Not only is the food outstanding but the service balances comfort with excellence. As a bonus, meals end with a visit to the place that makes the magic happen, the kitchen.

While the cooking style here is (unsurprisingly) French, their approach is "California cuisine." You may well know that "California cuisine" is characterized by using locally sourced, seasonal ingredients with technical creativity. The French Laundry has its own local garden that people can tour even without eating at the restaurant. And alongside one's meal, guests are offered a small booklet highlighting the restaurant's suppliers.

It can be difficult to get reservations at The French Laundry, though. You should know that reservations open on the first day of the month prior at 10 AM (PT). In other words, if you wish to book a meal in June, you need to be on the reservation site before 10 AM on May 1st. Rumor has it that reservations sell out within minutes. However, some guests feel they had an edge by using American Express Concierge to do the booking.
Additional Dinner Options
If you are looking for an alternative to The French Laundry for dinner, there are many fabulous options. The French restaurants alone in Yountville are worth mentioning. One of them, Bouchon Bistro, is run by The French Laundry's owner and chef, Thomas Keller. It is upscale and Michelin-starred, and you will have a better shot at getting a reservation. Plus, there's no dress code.
Bistro Jeanty is another very popular option. For whatever it's worth, some guests like that this charming Bistro has earned its reputation without leaning on a big name.

In looking beyond French cuisine, here are three excellent restaurants in Napa to consider. For a fresh take on Italian cuisine, try Bistro Don Giovanni. Looking for ribs instead? Try Mustards Grill, an upscale "roadhouse" named for the mustard flowers that bloom across the vineyards in spring.
For those looking to cut costs, consider Gatehouse Restaurant, where you will experience the handiwork of student-chefs at the Culinary Institute of America. At the time of writing, you could get a four-course meal here for $70 or a three-course meal for $60 (wine pairings not included).
Where to Stay
There are luxury accommodations aplenty in Napa Valley. For a charming Bed and Breakfast in downtown Napa that consistently gets rave reviews, try 1801 First. (They even have Elopement Packages. How niche is that?)
Poetry Inn, just outside of Yountville, puts a literary spin on lodging. Each room or suite is named for a writer. There's e.e. cummings, Walt Whitman, Emily Dickenson, Robert Frost, and Robert Louis Stevenson. Because the inn is perched on a hillside, each room or suite also has sweeping vineyard views. An unusual rule here is that guests be 21 or older, to maintain the inn's mature atmosphere.
In Yountville, two highly recommended options are Hotel Yountville Resort & Spa and Napa Valley Lodge. These can be convenient. For example, if you dine at The French Laundry, Hotel Yountville is only a walk away.

Costs can add up quickly on any trip, and the best way to save money on lodging in Napa Valley is to visit during the winter months–during the off-season. That said, Napa Valley Hotel and Suites is an affordable option in a convenient location for exploring downtown Napa, and there are Best Westerns, VRBOs, and AirBnBs around as well.
Key Takeaways
By your visits end, I hope you will have lasting memories of Napa Valley. The Scottish writer Robert Louis Stevenson famously published some of his memories of Napa Valley in Silverado Squatters (1983). He had been here on a two-month honeymoon with his new American wife.
As he put it, "A California vineyard, one of man's outposts in the wilderness, has features of its own." Admittedly Napa Valley no longer feels like "one of man's outposts in the wilderness."
Yet this 24-hour exploration by hot-air balloon, bike, wine tasting, spa treatments, and food will engage all of your senses in Napa Valley's special "features of its own."